Before I start this piece I'd like to revisit some important resources I named in last week's post: if you, or someone you know is having mental health difficulties or has talked about suicide or given you any other cause for concern then please check out any one of the following resources:
Call the Samaritans on 116 123 or visit their website
Get Help Now with Rethink Mental Illness
Visit the Mind website
I'd also like to share CALM's advice, reproduced from this page:
Want to help a mate that you're worried about? Not sure what to look out for? You might sense he's struggling, but what do you say? Follow these five steps to help your mates in all sorts of situations.
1. ASK – Encourage them to open up. Don't be afraid to use the word suicide.
2. LISTEN – Listen without judgement.
3. MAKE A PLAN – Create structure, set simple goals. If they're suicidal, stay with them and call 999.
4. BUILD A SUPPORT SQUAD – Call in family and friends. Share details of CALM and Samaritans.
5. KEEP CHECKING IN
Don't stop once your mate feels better. Nothing beats regular meet ups (and hugs). If you or your friend are in need of immediate help, CALM's helpline and webchat are open 5pm to midnight every day 0800 58 58 58.
This week's fact
I can trace my awareness of the severity of male suicide back to one advertising campaign: Project 84. In March 2018 ITV and CALM (Campaign Against Living Miserably) launched a hugely impactful installation that made male suicide impossible to ignore: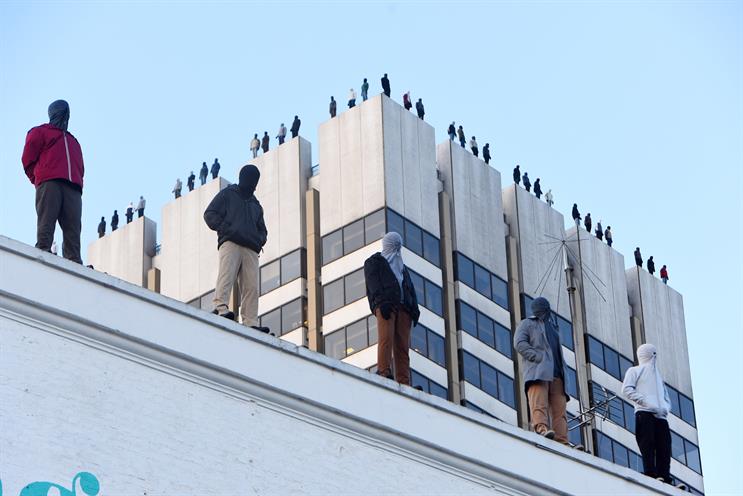 Image in Campaign
Project 84 highlighted the 12 men a day, 84 men a week who killed themselves in 2015. The campaign placed statues that had been created by the bereaved families of men who had lost their lives to suicide on top of the ITV building in the centre of London. The aim of the campaign was to get people talking about an issue that just didn't get enough attention, but to do so in a way that would remove the fleeting nature of adverts that just appear on-screen and to get across the 'humanity in each of the statues; the physical impact that jars people'.
Going by the latest official statistics it looks like we're finally seeing a trend of this extreme suicide rate slowing down but male suicide continues to be the biggest killer of men under 45. *
Why is this important?
I started Feminist Fact Friday to better inform myself of the ways in which inequality affects those who identify as women. As I wrote in the introduction to this month's focus – MEN – sexism isn't just bad for women, it's bad for men too. Inequality in all its forms creates worse outcomes for so many of us.
The reason that this week's theme is so important is that it's entirely avoidable. Suicide should not be the biggest killer of our young men.
The campaign I began this post with was successful in raising awareness and helping men and shows that we are not powerless in fighting this serious issue.
What can you do about it?
The causes and contributing factors are multifaceted (just as I wrote in my piece on men's health last week) making it harder to fight, but also meaning that we can attack this problem from so many angles.
Begin by making yourself aware of the contributing factors and warning signs outlined by the Mental Health Foundation:
Risk Factors
Certain factors are known to be associated with increased risk of suicide, which may fall into one of three categories – individual, socio-cultural and situational. These include:
drug and alcohol misuse
history of trauma or abuse
unemployment
social isolation
poverty
poor social conditions
imprisonment
violence
family breakdown.
Prevention
Many factors might predict if someone is more at risk of feeling suicidal or of acting on these thoughts. They might include:
feeling depressed, withdrawn and anxious
loss of interest in hobbies, work, socialising or even in their appearance
expressing feelings of hopelessness or purposelessness
acting impulsively or in a reckless way and not caring what happens to them
giving away possessions, sorting out their affairs or making a will
talking about suicide, death or dying or wanting it all to end
From there I'd like to start by repeating the resources I named at the start, which it's important to highlight are available to anyone in need. Please make use of them yourself or if you spot warning signs, help someone else to access these services.
If you, or someone you know is having mental health difficulties or has talked about suicide or given you any other cause for concern then please check out any one of the following resources:
Call the Samaritans on 116 123 or visit their website
Get Help Now with Rethink Mental Illness
Visit the Mind website
There's also an excellent article on the CALM website that outlines some of the combinations that lead to suicidal feelings. Please give that a read too.
If you're in good mental health yourself (good!), then whether you're a man or a woman reading this you can start by educating yourself. That's both to support others and then better prepare yourself for some of the inevitable issues that arise in life, so that you can meet those challenges head-on, without them spiralling out of control.
As they say in Slate:
It turns out there is plenty we can do about it. There are targeted mental-health and suicide-prevention efforts like Making Connections implemented across the country by the Prevention Institute and Movember Foundation. There are educational films like "Tough Guise" and "The Mask You Live In" that provoke discussions with young men, parents, and teachers about how we raise our sons in emotional straitjackets. There are educational curricula that promote healthy, connected ideas about masculinity like Manhood 2.0 (which Promundo created), and Live Respect from the organization A Call to Men. When implemented well, these approaches show evidence of changing young men's ideas about manhood—changes that in turn have been shown to lead to less violence and more help-seeking.
Go on to read this recent article from the BBC called Why more men than women die by suicide which highlights a number of contributing factors including an inability to talk about feelings, a decreased (or non-existent) support network, a tendency to avoid seeking help for mental health issues and increased pressure around financial or status difficulties – with the onus being on men to take care of problems alone and without complaint. Look at your own life: do you have a support network in place? Are you comfortable talking about your feelings? If you're a woman reading this, do you give the men in your life the opportunity to talk and express themselves without prejudice?
As Dr Rangan Chatterjee writes on the CALM website in the article Stressed? Dr Rangan prescribes passion and friendship, friendship and conversation are key to overcoming difficulties for men:
I see this over and over again. After the age of 30 a lack of strong male friendships is closely associated with the risk of suicide. For those people who don't have friends, I really encourage them to become a regular at places like local sports clubs, the gym, five-a-side teams or a local park-run. Even if you don't want to run, I have patients who go and volunteer at the park run and their mental health has improved because they feel part of a community. Community is missing for many of us in the modern world. I highlight those things that people can do very quickly, mostly things that already existed in society around 20 years ago that have been slowly eroded away. It's a reminder, we don't give friendship the same importance as food for our health. For those people who don't have friends, I really encourage them to become a regular at places like local sports clubs, the gym, five-a-side teams or a local park-run.
It's well recognised that men don't seek medical help early enough as often as women do. And it seems to be more socially acceptable for women to get together to hang out with their mates whereas men feel like they need a reason to get together. It's fair to say there seems to be a difference between the sexes in how we approach various things. Men have been taught that it's weak to ask for help and that they should just plough on.

I think we really need to redefine what society thinks it means to be a man. I remember these ideas from my twenties – if you didn't feel like doing something you were told to man up and get on with it. These are incredibly toxic social narratives that have almost become like facts. People like Matt Haig come in and turn these ideas on their head. Men need to understand that it's OK to tell a friend when you are struggling, you'll often find that they are struggling with something too.
Some final important but small points: don't take the piss out of mental health issues – you never know who is listening and absorbing that message; ask how someone is doing – and going by a tip I've heard through coverage of Sheryl Sandberg and Adam Grant's Option B, about dealing with the loss of Sheryl's husband, I'd recommend asking the question "how are you doing, today?" to emphasise that you're looking for a candid answer and you're there to listen; think about the pressures you're putting on the men in your life, or the expectations you have of their behaviour – would you treat women in the same way?
Lastly, learn the meaning of the word alexithymia. According to the Slate article:
"Being a man in the U.S., and around the world, too often means learning to suppress our emotional experience, so much so that we as men often lack even the language to express or understand our emotions. Some psychologists have called this alexithymia—the inability to connect with and communicate one's emotions—and identified it as more prominent in males. Quite simply, if men can't recognize negative or troubling emotions, and can't or don't seek help or talk about them, we don't know what to do when we face them."

Slate Why Do So Many Men Die by Suicide?
There shouldn't need to be a word for that. All of us can play a part in making that word redundant and stopping suicide from being the leading killer of men under the age of 45.
Sources
* Samaritans Suicide Facts and Figures June 2019
** Gary Barker writing in Slate Why Do So Many Men Die by Suicide? 28 June 2018